Bitx20
Big News! First contact made 10/4/2007 using the bitx20
The first 2 way qso using the bitx20 was with Wes, W4WEL in North Carolina. Thats 1500 miles using 4 watts and a low hanging dipole antenna! I answered his CQ and he came back to me. I was very surprised when he came back to me. We went back and forth a few time and then signed off.
Thanks Wes!!!!!!!!!!!!!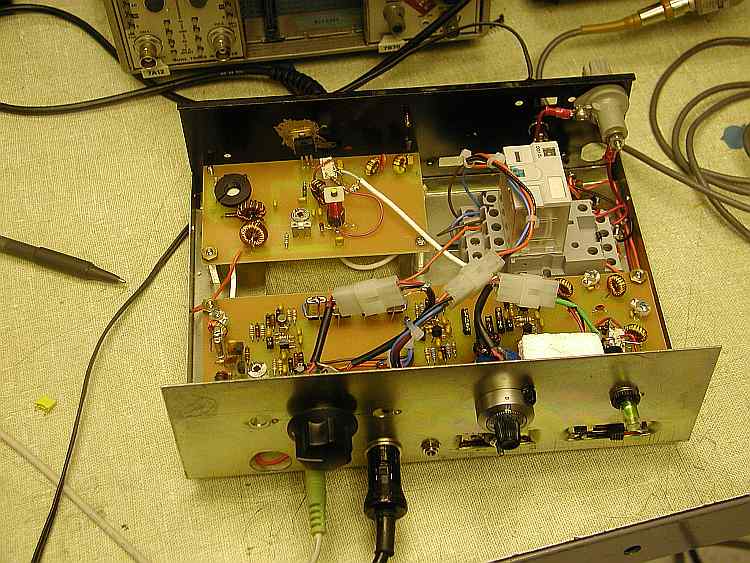 Here's a link to Ashar Farhan's original article on the Bitx.
I began this project about 6 months ago. I was searching for a simple tranceiver to build and stumbled across Far Circuits on the web. While looking through the circuit boards they offered, I found the Bitx20. I had held a conditional amatuer license in the mid 60's and my rig then was a Heathkit HW32. A 20 meter rig. My interest immediately hit the maximum. I followed up with a lot of web research and about January of 2007 I called Far Circuits and ordered their 2 board set which was based on an early design and posted here Printed circuit board files
When I received the boards, that was what I received. The boards only. On the Yahoo Bitx groupYahoo Bitx Group I found a file from EB7HPM which was a great start but far from what I needed.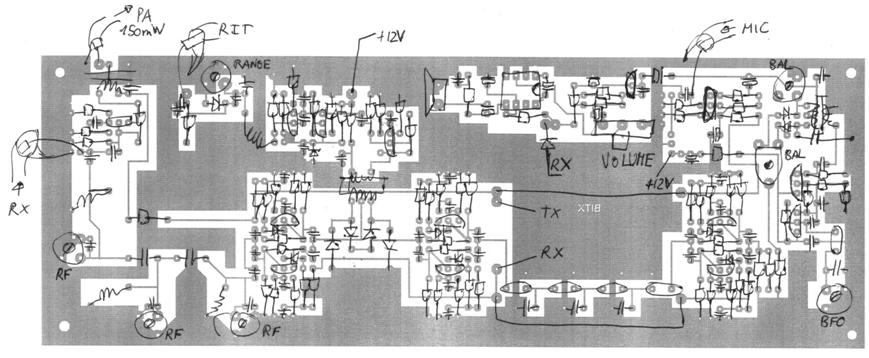 After some work, I soon had this.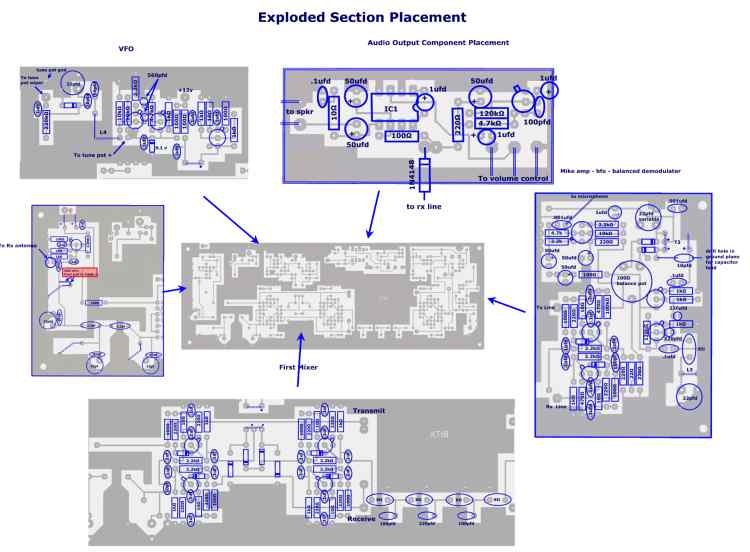 I began building the board using a systematic approach. 1st, easily built and tested circuits.
Click on the link below to download the component placement diagrams. Warning - I believe these to be accurate but I have not assembled all of my unit using these yet! If you find any errors, please email me at kc0wox
Component Placement Diagrams
Main Board Component Placement
Linear Amp Component Placement

Bitx Parts List - This is a partial parts list for the circuit boards with part number hyperlinks from Newark Electronics. The hyperlinks may be bad as this list was generated about 8 years ago.
I have since completed the audio section. You can see all details here.
Audio Section Details
Balanced Modulator/BFO/Mike Amp Section
Chassis Build Up Final build up putting the boards into a chassis. This is a picture series and not yet complete.
Video Files
Audio Section

Audio Section Build and Test Video 140mb This is the in-depth video on the audio section It is also a basic tutorial on fabrication.
Balanced Modulator Section
Adjusting the carrier suppression
Short video on the section 2 1/2 minutes and 7 mb
Troubleshooting a mike amp problem 7 1/2 minutes 24.4mb
Amplitude and Double Sideband Modulation
This is a tutorial on modulation 12 1/2 minutes 40.5 mb
Crystal FilterVideo
Demonstrates crystal selection, sweeping the filter using an oscilloscope, and checking and adjusting the carrier supression using a spectrum analyzer - 21 minutes long, 68mb in size
Winding a trifilar transformer video 14 minutes 46mb
Demonstrates winding a trifilar transformer. I don't believe that the core used, (T50-61), is the best for a Bitx but it is what I used for the demo. I also wound one with a T37-61 core and it appears to work ok in the board. I've ordered some T37-6 and FT37.43 cores which are the same one's being used in the upcoming kit. I've read somewhere that they are a better match.
More modulation and filter testing 7:45 minutes 24.8mb
Testing the modulator section for the source of the 2nd harmonic of the modulation frequency by substituting out the mike amplifier.
Linear Amplifier
Linear Amp Testing part 1 7:44 minutes 25.3mb
Sweep testing the linear amp output filter and overall static gain testing.
Linear Amp Testing part 2 12:25 minutes 139.5mb
Sweep testing the amplifier, on-the-air listening with the receiver.